Cyberpunk 2077 doesn't come out until September, but there are a lot of fun cyberpunk games you can try in the meantime.
---
Cyberpunk Games Available Now
Can't wait for Cyberpunk 2077? Neither can we. In the meantime, put on that trenchcoat, stare dramatically into the neon-soaked rain, and get ready for some cyberpunk games you can play right now.
Shadowrun Returns
Source: Harebrained Schemes
Based on the cyberpunk/fantasy tabletop RPG, Shadowrun Returns takes players into the shady world of the Seattle metroplex in 2054. As a shadowrunner - a mercenary living on the fringes of society - the search for a mysterious killer sets you on a trail that leads from the darkest slums to the city's most powerful megacorps. Choose your actions wisely, enlist the help of other shadowrunner NPCs and master the powerful forces of technology and magic to survive.
Deus Ex: Mankind Divided
Source: Square Enix
The entire Deus Ex video game series delves into body augmentation and the corruption of society - two strong themes in the cyberpunk genre. In Deus Ex: Mankind Divided, you take the role of Adam Jensen, an augmented human in a world where his kind have been outlawed. Use your stealth and abilities as an experienced covert op to unravel a worldwide conspiracy. You will get to make a lot of choices on your journey, all of which will impact how the story ends.
Technolust
Technolust is an interactive visual novel set in a cyberpunk dystopian world. Players can freely explore their environment and interact with characters as they solve a mystery involving mass suicides. Includes minigames, collectibles, and free digital expansions through "hours" of gameplay.
READ: 8 Best Accessories for Oculus Quest
Blade Runner 2049: VR Tie-Ins
Source: Alcon Interactive
WARNING: These titles may provide spoilers to the film!
There are three VR movie tie-ins to Blade Runner 2049- Replicant Pursuit, Memory Lab, and Revelations, each seving a quick adventure in VR that puts you in the gritty world of future Los Angeles. In the first experience, users take the role of a Blade Runner in 2049, tasked with hunting down articifial humans called replicants. When a rogue replicant kills two people, it's up to you to chase them down in your Spinner, a type of flying car.
Afterwords, Memory Lab sends you for a check up at Wallace Corporation.
A third story, Revelations takes place in 2023, bridging the gap between the original film and 2017 sequel. Unfortunately this VR tie-in is no longer available for purchase.
While these aren't technically games - you mostly just sit back and enjoy the ride - they can serve as fun little romps in a beautifully rendered cyberpunk world.
The Red Strings Club
Source: Devolver Digital
The Red Strings Club is a choose-your-own-dialogue interactive adventure set in a pixelated cyberpunk world. This exploration of themes and conspiracy features the bartender of a clandestine club and a freelance hacker who set out to stop a megacorporation from brainwashing the masses. Alongside unwitting company employees and a rogue empathy android, the duo will pull all the strings they can to bring down this scheme.
Cyberpunk Games Coming Soon
These cyberpunk games are set to release in the very near future, so check them out and get some ideas for your gaming wish list.
Virtuaverse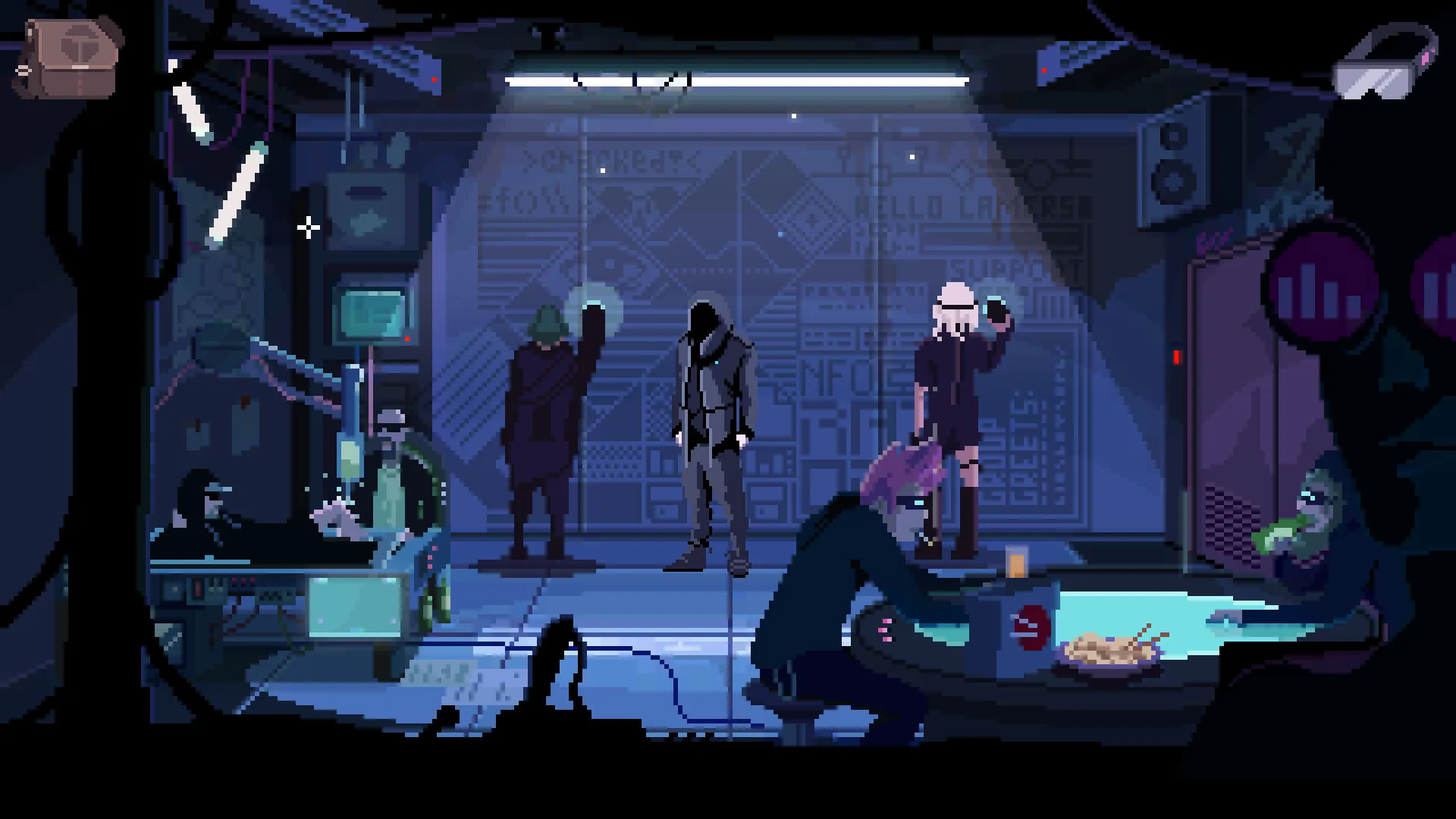 Source: Blood Music
VirtuaVerse is a cyberpunk point and click adventure set in a neon-filled dystopian city, drawn in a retro-inspired pixel style. Players take the role of Nathan, an outsider who makes a living off the grid as a smuggler of modded hardware and cracked software. Geared up with his custom headset, he is among the few that can still switch AR off and see reality for what it is. When his girlfriend Jay goes missing and headset broken, Nathan must venture into the dangerous city in search of answers.
Sense: A Cyberpunk Ghost Story
Sense is a horror game inspired by Clock Tower and Fatal Frame that mixes cyberpunk with traditional Cantonese folklore. The story is set in 2083 Neo Hong Kong, where a young woman named Mei-Lin Mak is dragged into a maelstrom of supernatural horror as she explores the ruins of the Chong Sing Apartments. Faced with plenty of atmospheric horror, Mei-Lin must piece together the stories of 14 lost souls and discover the truth of her own family curse.
Ghostrunner
Source: All in! Games
In the future, a global cataclysm forced the remains of humanity to live in a tower built by The Architect, who died mysteriously years ago. Everyone knows the truth, no one says it aloud. You are an augmented hunter in search of your origins and potentially, revenge. Explore the tower, fight your enemies both in the real world and in cyberspace, and obtain the power to challenge The Keymaster.
LOW-FI
Source: Iris VR
Described as "more of a holodeck program than a traditional game," LOW-FI drops players into a non-linear cyberpunk adventure. You play a police officer, transferred to a particularly crime ridden section of city called block 303.
Here, you deal with other "low-fi", the street name given to those who cannot merge with "the platform," a ubiquitous virtual reality simulation where most of the population now live their lives. Patrol the streets, interact with colorful characters, upgrade your gear, and pretty much do whatever you want in this open world.
Gamedec
Soucre: Anshar Studios
Gamedec is a single-player cyberpunk isometric RPG. You are a game detective, who solves crimes inside virtual worlds. Use your wits to gather info from your witnesses and suspects, getting to the bottom of deceptive schemes. The game continually adapts to your decisions and is unique in that there is never any fighting - just interaction.
Read More:
Get hype for Cyberpunk and join like-minded folks over on the official SteelSeries Discord server!