Diablo 4 is on its way - that is, in production with no release date yet. We may have to wait a while, but it appears that Blizzard is answering the fans with exactly what they want!
---
The buzz has been confirmed and Diablo 4 will be full of gory, gritty landscapes and dark lore! This is exactly what all the Diablo fans have been begging Blizzard for for years, as the last major installment, D3, came out in 2012.
Needless to say, Diablo fans were more than anxious to hear any news as they attended or tuned into BlizzCon 2019. Last year's announcement of Diablo Immortal resulted in only limited fanfare but with straight-up hysteria from the Diablo fan base - and this disappointment was fresh on many minds this time around. However, any anxiety quickly shifted to fans freaking out and even tearing up (me!) after seeing the beautiful trailer and cinematics release for Diablo 4.
What We Know So Far
Diablo 4 will feature five distinct regions with a vast hellish landscape, higher fidelity graphics, open world concept, and more adaptable monsters. It's going to take strategy and working together to conquer some of the higher level and world bosses!
There will be keyed Dungeons that players can queue for and play similar to World of Warcraft, and the Diablo universe seems to be expanding unlike any game in the Blizzard lineup.
The game will be coming to PC, PS4, and Xbox One but may alsobe featured on the future console releases of PS5 and Xbox Project Scarlett.
---
Source: Blizzard Entertainment
Here's What We Predict Will Be Different
The Characters
Playable characters so far are a mix of past Diablo games - with the Sorceress, Barbarian, and Druid as the first three playable classes that have been confirmed.
The Sorceress (Sorcerer) will return - a character present in all Diablo games except one - taking her role back from D3's Wizard.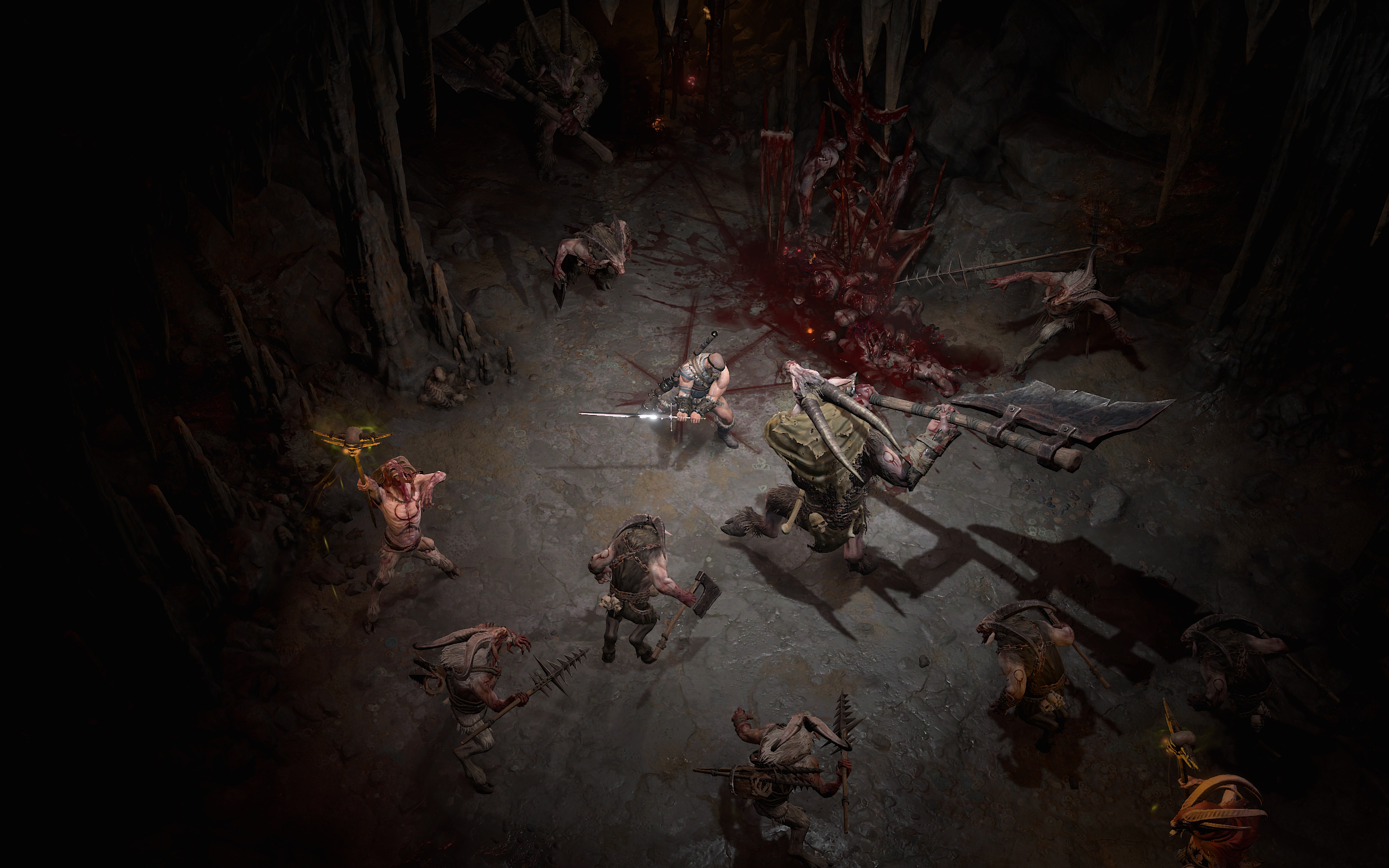 Source: Blizzard Entertainment
We also have our familiar Barbarian, who has been in all the Diablo games that have been released. This is quite a feat for a game that changes its characters out often! The Barbarian is a huge favorite for many melee lovers and fans of close combat destruction. What's more, the current D4 build shows a much more brutal killer machine.
The Druid is new to many who have played the games in the Diablo universe or did not dive deep enough in D2 to get the Druid in the expansion pack. The Druid is a huge shake-up for Diablo fans but much more interesting for those who are also fans of the other (and arguably more famous) World of Warcraft, where Druids are a favorite playable character to many.
Character Selection
Picking the classes has returned to the "around-the-campfire" interactive look from Diablo 2. Additionally there is more variety while picking the characters instead of just one build each for male and female, there are now four choices for each character two male and two female, this will give much more variety to the classes.
So far, the characters look great. I don't know about you, but the graphic quality on the Blizzard website alone should have everyone excited for the character details that will be present in D4.
The Lore
Lilith, the daughter of hatred, has returned to show mankind what true evil can look like. She has been featured in the Diablo universe lore before as a third to the battle between Heaven and Hell. According to legend, Sanctuary was created between the union of an angel and a demon, and Lilith is the latter. In D2, she formed her own alliance with Inarius and together they stole the Worldstone, creating Sanctuary. In D4 they seem to have retaken their creation and put Sanctuary into eternal darkness with the foes of Heaven and Hell being unleashed.
Source: Blizzard Entertainment
The Graphics
Hope you like flying body parts, because D4 will have much more blood and gore. Trailers have already hinted at the dark and edgy tone that will be amplified this time around. The detail is amazing and the previews show how much more the casting and spell effects will be visible in the game - an amazing addition to the gameplay.
This is a new generation game and the graphics are higher fidelity than past releases, so this time we are in for slaughter that looks realistic and terrifying. There are more cut scenes in D4 and the storyline seems like it will be much more detailed than past Diablos - showing that Blizzard is using their best engine for this game.
The Gameplay
D4 looks very similar to D3 and it seems to be in the same format, but the graphics have changed much of the landscape. The open-world concept seems to be expanded throughout the game, creating a sinister playground of destruction.
The characters and storylines seem to be much more detailed than in past games, if the number of cut scenes in the walkthrough are in any indication. D4's open world concept will require many side missions to fill space, and the storyline will be much more intertwined and vast.
Speaking of vast, mounted combat seems to be a new addition to the Diablo universe, which is a sign of how large the world could be.
Lastly, dungeons and world bosses could lead to raids and a future for Diablo esports as it could open up the team play abilities the franchise has been lacking on. I would not rule it out as Diablo is one of the only main Blizzard games that does not have an esports facility. D4 could greatly change that with these new capabilities.
---
Will you be playing Diablo 4 and if so, what are your predictions? Let us know on Twitter!