Our firmware engineers never cease to find ways to improve our keyboards. Every single Apex Pro keyboard receives a major upgrade.
---
SteelSeries is at the forefront of innovative gaming keyboards that elevate your skills even further. Go beyond what you think you can do with the fastest keyboard in the world.
We are thrilled to announce a new feature called Rapid Trigger that is bound to shift the odds in your favor ever more.
What is Rapid Trigger?
Most switches have a set actuation point — that is, when a key is depressed, a point where it will activate. How deep you need to press it depends on your settings.
As long as you keep your finger on that key, it will keep inputting it, as long as it is below the actuation point, let's say 2mm. If your finger lifts the key above that threshold, the switch will "reset" and release the keypress.
You can see this in action if you press a key down fully and lightly bounce your finger up and down. If you are still pressing it within the actuation point, it will continue inputting whatever you pressed, even though you lifted your finger a bit.
Rapid Trigger takes this to the next level.
It enables dynamic "active" and "reset" points based on the movement of a key, making it active as soon as you press it. But unlike in typical actuation, the key resets as soon as you lift your finger. This means the key does not need to pass a fixed reset point to release the keypress.
How can this help your gameplay?
The gameplay benefits from this feature are enormous.
In practice, this means that if you need to press an ability or a button multiple times in rapid succession, every single of your presses will register with accuracy without skipping a beat. The key doesn't need to release all the way up. Without this feature, there's a chance that some of your inputs would be skipped.
This is a huge benefit to any game where you need to press inputs fast, especially rhythm-based games like Osu! and so on.
However, an even larger benefit that will apply to more genres is the elimination of latency or delay from the physical movement of the switch. Your keyboard will be totally in sync with FPS games.
For example, when you're strafing in FPS titles, your character will keep moving after releasing for that miniscule amount when playing on a typical keyboard. With Rapid Trigger, your character will stop strafing at the precise moment you start lifting your finger, leading to better aiming with your mouse.
Whether you're a Street Fighter VI keyboard warrior or you're fighting enormous bosses in Elden Ring or other soulslike games, no input or release latency means you will land those perfect parries and one-frame links. The key will activate as soon as you press down, and stop working as soon as you decrease the pressure.
This is the edge you've been waiting for to elevate you above the competition, delivered by your SteelSeries keyboard.
How to enable Rapid Trigger on your keyboard
There are two ways to enable Rapid Trigger on your Apex Pro keyboard.
Press the SteelSeries key + T to toggle Rapid Trigger on and off. The number keys should change their lighting. This works on all Apex Pro keyboards.
Long press the media button by your OLED screen to enter the OLED menu, scroll with the roller and click to select "Actuation." Click the roller again to toggle Rapid Trigger. Pressing the media button twice exits the OLED menu. This works on the Apex Pro TKL and fullsize only (the models with the OLED screen).
When Rapid Trigger is enabled, the OLED actuation menu will show a lightning bolt symbol above the actuation number.
If Rapid Trigger is disabled, there will not be a lightning symbol there.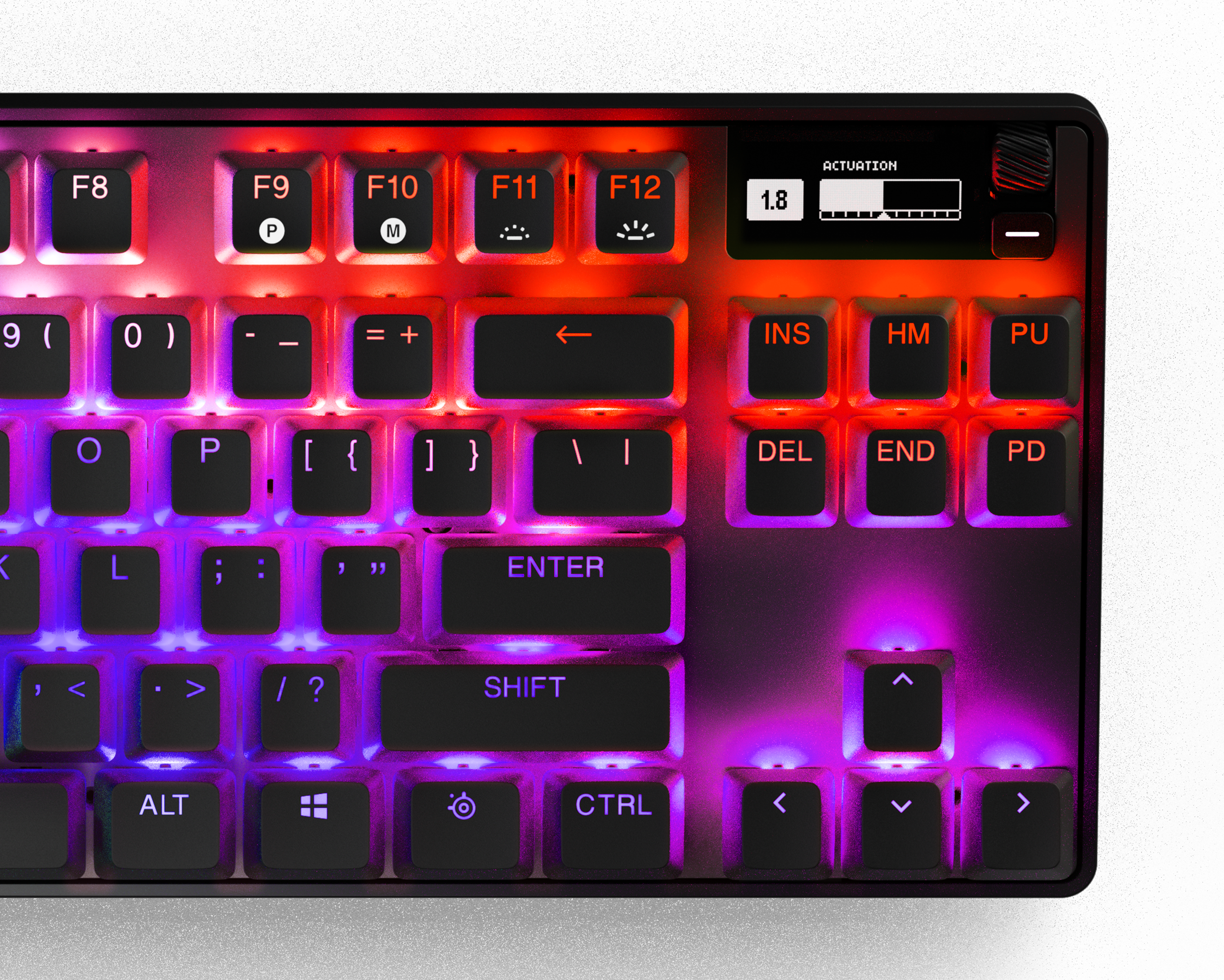 You can also enable and customize Rapid Trigger further in SteelSeries Engine (make sure to update your keyboard to the latest firmware as well). Under the Actuation settings, you can enable Rapid Trigger by clicking on a yellow box in the config menu on the left. By default, Engine selects all keys, so you can enable Rapid Trigger for them all.
But you can also select individual keys to enable Rapid Trigger just for the desired ones, such as WSAD, for example.
全新: You can now adjust the sensitivity of Rapid Trigger, meaning you can have the effect engage with high sensitivty (0.1mm) or a very low sensitivity (up to 4.0mm). You can do this per key. This gives you greater control over when a key release is detected while Rapid Trigger is enabled.
For example, if you're trying to press CTRL+C, and you're reaching to press CTRL but lift your pinky a tad too soon, typing only C instead. Decrease the sensitivity of Rapid Trigger on CTRL to reduce the timing on these accidental releases.
We offer the highest sensitivity range among gaming keyboard makers.
We hope you're just as excited about this latest feature of our keyboards as we are. In the meantime, if you haven't gotten one yet, make sure to check out our selection of gaming keyboards to get your Apex Pro today.
Also check this out: