SteelSeries is more than just hardware. Our software engineers devised an essential program called Sonar Software to help you get the most out of our headsets. Here's how to massively reduce other noises while using voice chat on PC.
---
While SteelSeries gaming headsets provide you with awesome audio and mic quality, you can take them a step further and customize to your liking with our Sonar Software, a free app. Sonar offers a variety of benefits to enhance your audio experience: audio presets can give you X-Ray Hearing, meaning you'll be able to better distinguish steps and other important audio cues to give you an advantage; total audio customization with a pro-grade 10-band Parametric EQ; and the feature we'll explain today called ClearCast AI Noise Cancellation.
This feature, when toggled on, uses special AI algorithms to drastically reduce (if not completely eliminate) sounds other than your voice. Keyboard click-clacks? Gone. Loud clicks? Missing. See some increasingly zany examples in our demonstrative video below:
One great thing to note here: this feature, unlike similar ones of our competitors, does not use the GPU, only the CPU. This means that you won't see any FPS drops or performance issues due to Sonar.
Additionally, this feature also reduces noise from your teammates' incoming chat. Neat, right?
Ready to try this feature out for yourself? Let's see how to reduce noise from your mic with a few easy steps.
How to enable ClearCast AI Noise Cancellation
First, make sure you have the SteelSeries GG app installed, and either create an account or login. SteelSeries GG is our all-inclusive, free app that allows you to customize your SteelSeries gear with Engine, capture your gaming triumphs with Moments, and adjust your audio experience with Sonar.
1. Select Sonar in the GG bar on the left side.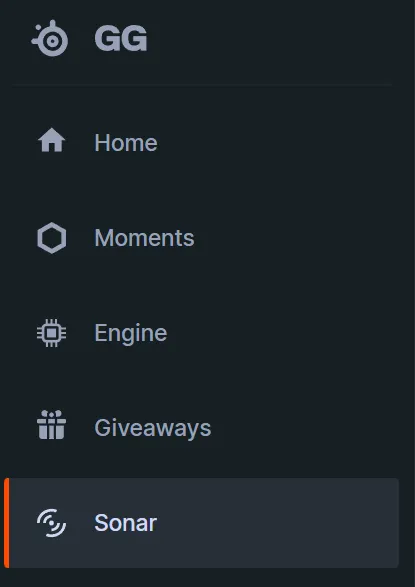 If this is your first time launching Sonar, an initial setup screen will show, walking you through the devices that you want to assign to the Game, Chat, and Microphone. Once you're done, you should see all the playback and input levels for all the devices, including the overall Master sound. The dropdowns allow you to change the devices.
Make sure your microphone is set to the correct one!
2。Click away from "Mixer" at the top and click on "Microphone" to head over to the mic adjustment screen. Then, scroll below.
Up top, you have the 10-band equalizer, which allows you to adjust how the microphone sounds. However, we want to reach the ClearCast AI option, which is below.
3。Simply press the blue toggle to enable the ClearCast AI feature on/off.
And now it works! You also have gained access to the slider, which adjusts the degree of noise cancellation and the impact it might have on your voice, from Minimal, Medium, to Maximum. Maximum is the feature's most aggressive form of noise cancellation so we only recommend it if you're in a particularly noisy environment, such as a cafe. For most situations, use Medium or Minimal.
Note that two features below it, Noise Reduction and Noise Gate, are disabled while the ClearCast AI Noise Reduction is on. This is because it already includes those features, so there is no need for additional tinkering. You can still enable Smart Voice, below those, if you wish, which automatically controls the sound level of your voice to keep it from going either too loud or too quiet.
4。Adjust noise cancellation for the teammate chat.
At the top, click on the "Chat" category to do a similar adjustment for the incoming audio communications. Similarly to the Microphone category, scroll below to see the ClearCast AI Noise Cancellation option, and toggle it. You can also adjust the intensity of the noise cancellation feature.
Now, Sonar will filter out incoming noise from your teammates.
Which gaming headsets are compatible with ClearCast AI?
Our recent updates to this feature have made it so that all headsets are compatible! It doesn't matter what headset you use — both USB and analog connections work — though of course the results are best with SteelSeries headsets.
Here are some of our recommendations:
You can also enable access to this feature with some of our gaming speakers:
Learn more:
There are more features in Sonar Software: