Trying to decide what game you should play next? Here's what we're into right now:
---
Jon from marketing:
The newest Call Of Duty (Modern Warfare). They've made the in-game challenges really addicting and they do such a great job of hooking you in.
---
Joel from software:
Indivisible. It's a ridiculous combination of a platformer and a JRPG with full anime-level cutscenes.
---
Brandon from customer experience:
A mix of NBA 2K20 (because I like basketball) and DBZ Kakarot (because I love a slow paced anime game).
---
Matt H. from R&D:
I have been finally playing through The Witcher 3, and I'm enjoying it a lot - even though I've spent 35 hours on it and I've barely gotten anywhere in the game's story/world yet. This is gonna be a long one. I should PROBABLY stop neurotically stealing all of the peasants' hooch...
The Evil Within 2 was a pretty solid survival horror game, even though it felt a bit clunky at times and the characters are all basically unlikable.
I put like 200 hours into Death Stranding - I really enjoyed traveling through that world and building up the infrastructure. I did find actually finishing up my platinum trophy USING all that infrastructure kind of boring though... so I started a new game to enjoy building it all up again after that. Haha.
---
Kendall from R&D:
Dark Souls: Remastered. I love and hate it at the same time... Feels good to demolish some bosses, but makes me want to rage up until the point of beating the boss.
---
Michael from software:
Spelunky, gotta grind Hell runs to prepare for Spelunky 2 coming very soon(ish? Maybe??? Help Derek Yu I need the game).
---
Kristen from customer experience:
After two years away from it, I started playing League of Legends again with coworkers about a week ago. I do love the strategy aspect & feelin' good about healing my buddies. What I don't like about the game... well there's the soul-sucking feeling as you login, but...
---
John from the web team:
Black Desert Online. It's a fun "turn your brain off and grind" MMO game I return to when I need a break and want to watch youtube in the background or listen to podcasts.
---
Matt from software:
Disco Elysium. The writing is like hitchhiker's guide to the galaxy, and there seems to be a lot of room for experimentation with your character's actions. Am enjoying it.
---
Toni from the web team:
League of Legends' Teamfight Tactics. It's a semi-relaxing game that doesn't require you to be 100% focused. It's good to play while catching up with friends or when you have laundry to fold.
---
Eric from the web team:
Synthetik: Legion Rising. This game is just super interesting. I'm not even sure if I like it yet. It's a co-op tactical roguelike that has a lot of focus on gunplay. Your gun can jam in an intense fight. When you're out of ammo, you have to actually eject the cartridge before you reload. If you time your reload just right, you are instantly back in the action. If you mess up, you can be totally screwed. On top of all that, moving makes you wildly inaccurate.
The graphics are pretty original and, shamefully, how I was talked into buying it. It's pretty damn hard and I can only play in short bursts. I guess we'll see!
---
Chris from software:
Dota 2. It's frustrating.
---
Jeff C. from the product team:
Semi recently was Borderlands 3. i didn't even finish it... was a fan of 2. Glad I didn't buy the DLC/fancy whatever release.
---
Kleon from marketing:
League of Legends' Teamfight Tactics. I really like it because it's a lot of fun and you don't have to pay attention to it 100% of the time (unlike shooters). Lots of ways to win and everyone starts from the same slate.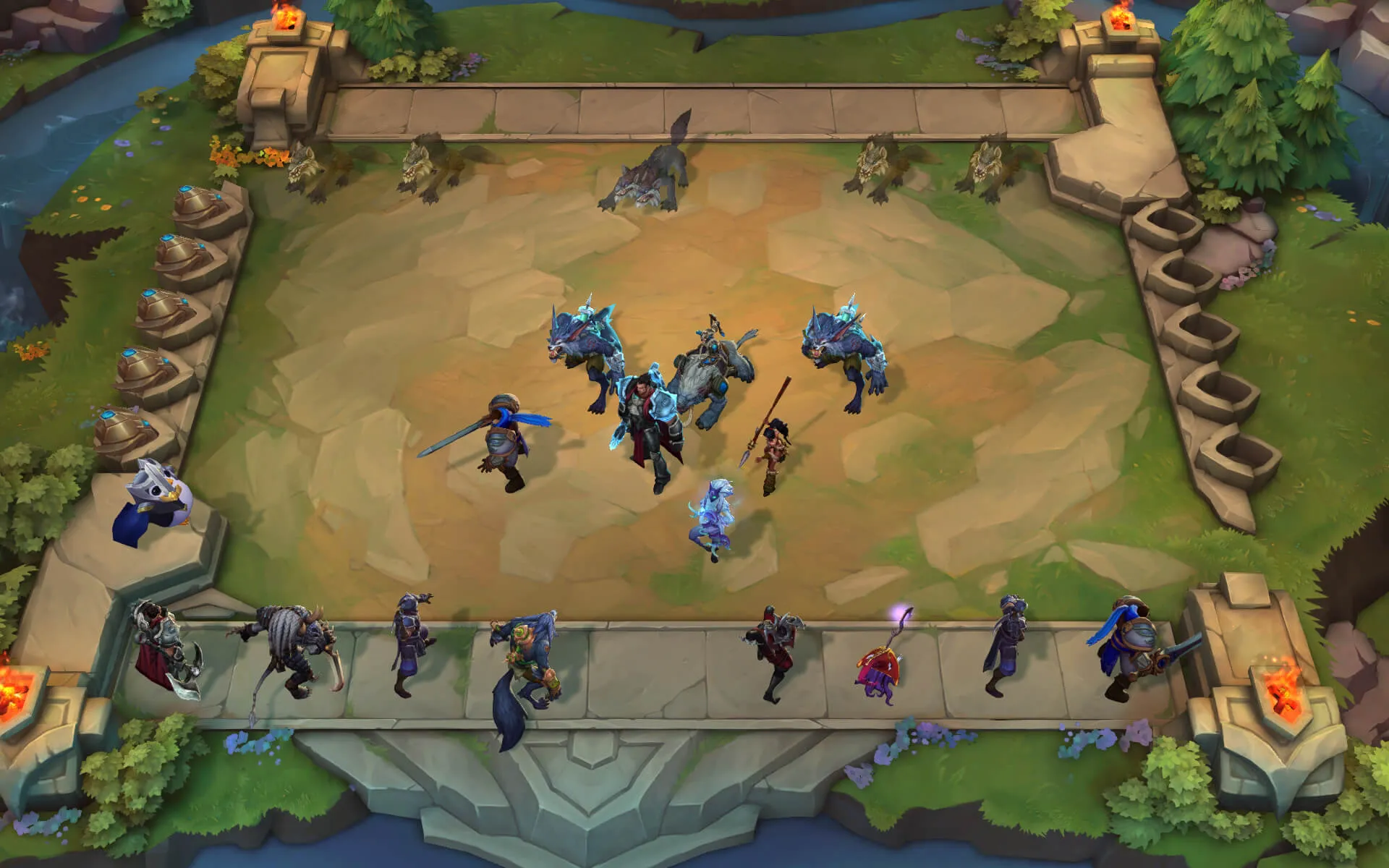 ---
Allen from customer experience:
Escape from Tarkov. The rush of trying to stay alive and knowing that one wrong move can lose all of your gear/weapons.
---
Lindsey from the esports/influencer team:
Most recently I've been playing the Dark Souls games. I beat the first Dark Souls in January and am currently finishing up Dark Souls 3. (I skipped DS2 because literally everyone except for Tim told me to. Tim also told me that the people who told me to skip DS2 weren't my real friends and that they didn't care about me. Tim cannot know that I still decided to skip DS2 lol).
To add to the fun, I'm doing a blind play-through of each game and counting the # of deaths I rack up. For the first Dark Souls (+DLC), I died 437 times. That sounds like a lot, and it is, but I beat the game! I'm proud of myself and that number, especially since majority of people who start the game never end up finishing it. It also gives me something measurable to improve on the next time I decide to do a play through.
The reasons I like the series so much is because the game doesn't really give you any instruction on how to play beyond button functionality. Each game relies heavily on the skill, patience and adaptability of the player. There is no hand holding and I fully believe that is what makes the series so well loved. It's challenging and the lack of direction amplifies the sense of accomplishment you feel following each difficult area/boss.
I could honestly go on about the series for hours. Each game is a masterpiece and I wish everyone would play through it.
---
Megan from marketing:
Monster Hunter World (and its recent expansion, Iceborne). Get a few friends together. Climb onto the monsters head. Smash the monster's head into a wall. Laugh at it. Wear its corpse as armor. Dress up your cat. I don't need much else.
---
Ron from customer experience:
I've started playing League of Legends recently and I am having a great time. Although, it can be frustrating being new in a game that has been out for ages.
---
Brian from product management:
The Witcher 3. I bought it a while ago on Xbox but never got around to playing it, knowing what a time investment it would be. But now I bought it on Switch, so I've basically determined what my train commute is going to look like for the next ___ months. I'm still early in the game, but I can already see why it won so many accolades. The story is fantastic, and the side quests are very entertaining. Looking forward to the journey!
---
Nathan from engineering:
Card of Darkness. Fun little puzzle game with a great soundtrack and cool style.
---
Ellie from software engineering:
I have been replaying Skyrim on PC. If you asked me a few years ago this might have been my answer for favorite game. My good memories of it mostly revolve around its storytelling through world exploration, the feeling of leveling up and gaining skills, joining the dark brotherhood and getting a sweet horse, and finding bugs to exploit.
Replaying it, however, is reminding me of the things I readily forgot, like losing progress from crashes, Lydia, and asset reuse in dungeons. Overall though, I'm still enjoying the sneak archer cheese, and find most of the glitches more amusing than frustrating.
---
Christian from marketing:
Finally started playing Witcher 3, but having a hard time getting into it! There's just so much you have to know, and it's such a meaty RPG. I just need to sit down and dedicate the time to figuring it all out.
---
Adam from customer experience:
Blacks Ops 4. I'm addicted to Blackout mode on it :( But also Risk, A LOT of Risk... yes, the boardgame.
---
Rosel from planning:
Monster Hunter World - the feeling of endless DLC ! There's always something going on with new monsters, events, feats and challenges. It's hard to get tired of it.
---
Joe from creative:
Pillars Of Eternity 2: Deadfire. I'm an oldschool cRPG fan. Love storydriven games with deep mechanics
---
Asger from EMEA:
Doom and Watch Dogs 1 and 2. I play these to hype myself for the upcoming releases - Doom Eternal and Watch Dogs Legion.
---
Rasmus from marketing:
World of Warcraft: Classic - the first ever computer game I was introduced to at the age of 9 was this game, I have had a ton of fun playing it together with friends and my brother.
---
Jordan from product management:
After wrapping up the amazing story line and tons of wandering in Red Dead Redemption 2, I've returned to finish up bouncing Alexios around ancient Greece in Assassin's Creed Odyssey. Although a beautiful game unto it's own, story wise, in comparison I found RDR2 to be a more emotionally engaging experience.
---
Whose pick do you like the most? Is Nathan's pick (according to him) the most normie? Let Twitter guy know.
We've got a lot of opinions around here. Stay tuned for more staff Q&A.
Read More: