Many full-fledged games are available on Android phones, but touch controls can be a pain. Here's a better way.
---
Mobile gaming has advanced significantly over the past few years. Most top-line console and PC titles have some kind of mobile counterpart. You can even fully experience an older PlayStation 1 title on-the-go, something unheard of 20 years ago. But without a mouse, keyboard, or controller, the experience doesn't always live up to the game. While many developers adapt to the small screen, attempting to recreate the experience with convoluted touch controls and revisions, it's just not the same sometimes. You lose the precision and comfort of analog sticks, the ease of four face buttons, and the added shortcuts in the form of shoulder buttons have no equals. Luckily, SteelSeries has a great solution for that.
We're upgrading our controller lineup with the Stratus+. While the two biggest features are the now-included slim-profile phone mount (which works with just about any phone) and the much-more energy efficient battery, the rest of the package is just as excellent. Bluetooth LE keeps you gaming without any wires, and for longer too — marathon-game for 90 hours on a full battery, and take advantage of a fast charge function, too.
The addition of ALPS thumbsticks, which is a fancy way of saying awesome analog controllers with clickable L3/R3 buttons, is there to bring the console experience to you. There are also awesome Hall Effect mangnetic trigger sensors for the shoulder buttons to give a great, tactile feel where possible.
With that, here's a list of some of the best Android games that take advantage of our Stratus+ for a stellar, console-like experience while mobile.
Top Android Controller Mobile Games
Dead Cells
Dead Cells is a fairly unforgiving roguelike, with a high difficulty curve (I didn't clear all the difficulties, don't judge). When every dodge roll, shield parry, and therefore frame of a second, matter, you need precision. Though the mobile port is relatively well-received, it's tough to imagine doing that well with touch controls, which take up a good amount of precious screen space. Do your fingers a favor and keep the head on your shoulders with a better option.
Castlevania: Symphony of the Night
This is a PS1 classic I mentioned in the intro. It's a sublime game, really, and it's hard to believe that it can fit as an app on your phone, as opposed to inserting the "black disk." Considered the founder of the "metroidvania" term, Symphony of the Night is an intricate but very satisfying adventure. The castle is filled with tons of enemy types, items and weapons to use, and secrets that will keep you guessing. Having tried the mobile controls, it just didn't pull me in like the original does. Playing it on the Stratus+ brought me right back to the PS1 days.
《泰拉瑞亞》
I've sank hundreds of hours into Terraria, because it's like a mine of goodies and fun experiences. While many of you have probably played this on PC, the Android port hasn't done so well in the beginning. Thankfully, the developers completely rewrote the mobile game and added stellar mobile controller support. With the slim mount included in the Stratus+, you won't take up space with your fingers, especially since you do need a bit of precision sometimes in Terraria. The Stratus+ has so many buttons, it covers all the needed actions in Terraria quite easily.
Brawlhalla
The free-to-play title is easy to pick up, and even more accessible thanks to its mobile version. Those of who are more competitive, however, may find the touch controls not entirely satisfying, especially if you dive into the Ranked Match mode a lot. Fighting games require a lot of precision, so it can be frustrating to lose due to a control handicap.
Fortnite
You've most likely played Fortnite on console or PC first. While Fornite Mobile is still available on Android (just not off the Google Play store), the controls are very different. There's so much adaptation required to play it, with so many settings for the firing style, the aiming method, where the icons are placed, and so on. You'll increase your chances of winning with a more familiar and precise setup. I also managed to play Fortnite using GeForce NOW.
Apex Legends Mobile
Though this game is still in development, Apex Legends Mobile is coming to Android soon. Dive into the Apex Legends experience anywhere, picking from an ever-growing roster of characters, pairing up with two of your best (or worst) squadmates, in thrilling, fast-paced battle royale gameplay. We're looking forward to seeing how the Stratus+ will be able to give you a huge advantage over other mobile Android players.
Stardew Valley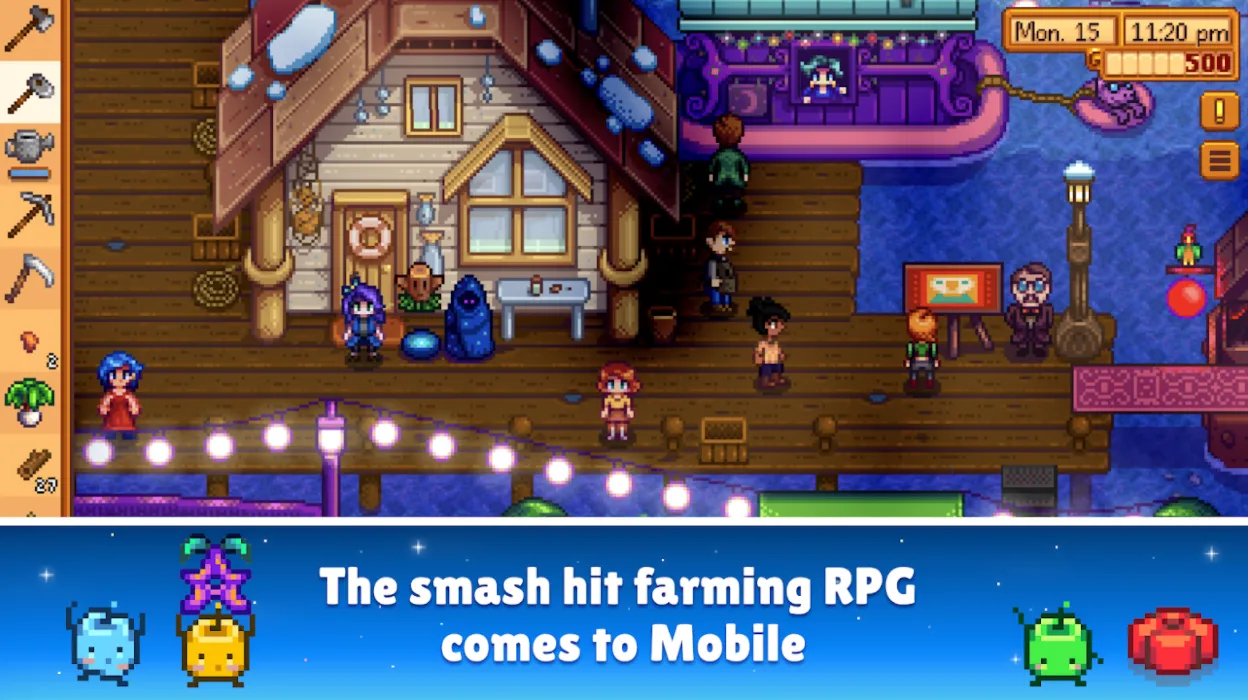 All right, for something a little more relaxing. While I've mostly played this on PC, there would be something really charming about taking my farm on the go. This game is so comforting and relaxing, but mostly, I think the best thing about it is the feeling of accomplishment you get. Setting little goals for yourself and fulfilling them while making friends around town (and profit) is very fulfilling. Great game to for a feel-good session.
Minecraft
Say goodbye to needless on-screen controls that clutter your UI. Enjoy seeing the colorful world better as you let your creativity unfold. Even if you're a keyboard/mouse purist, this is a big step-up from the mobile touch controls. Having the right stick to control the camera alone makes playing Minecraft so much better with the Stratus+.
Hope you enjoy this collection of great Android games for the controller, and remember, there's hundreds more out there that take advantage of gaming controllers. Step over to the Stratus+ page to upgrade your console experience.
Screenshot sources: Google Play Store and author
Also check this out: